You can include your LawPay payment page link on all of your QuickBooks invoices so your clients can pay in one easy click.

Step 1: In LawPay, copy the link to your payment page.
In the LawPay web application, click Charge.
For the account where you want to deposit payments click Actions > Show & Copy Page Link.
Copy the link in the box that pops up.
Step 2: Create a template in QuickBooks and add your payment page link

Sign in to QuickBooks as an admin.
Go to the Edit menu and select Preferences.
Select the Send forms menu and then the Company Preferences tab.
From the Delivery Method Default drop-down menu, select Email.
From the Email Templates drop-down menu, select Invoices.


Select Add Template

.

Name the template
Paste the LawPay payment link in the Body of the email in the desired location.
When you're done customizing, select Save. After you close the template, select OK in the Company Preferences tab to save your changes.
To set this template as default, click Set Default next to the template just created.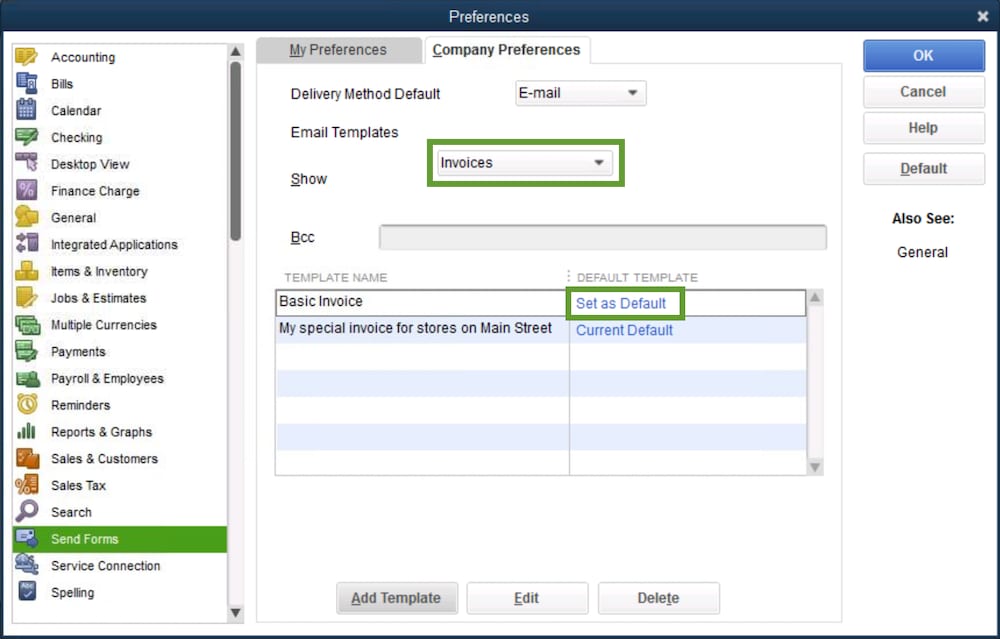 Using the Template

In QuickBooks, click Create Invoices on the home screen.
Fill out the necessary information on the invoice including Customer, Item(s), and terms.
Once the invoice is complete and you are ready to send it, click Email.





Select the template created above from the Template drop-down menu.


Click Send.
Now, anytime you send an invoice in QuickBooks your LawPay payment link will be included.
Watch our short tutorial below:

QuickBooks Premier Desktop was used to write this article. For other QuickBooks versions, steps may vary.